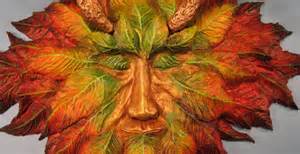 At Mabon – the Autumn Equinox – the time of the harvest, we gather what we need to see us through the coming cold and darkness of winter.  As the light fades from the outdoors, we take it inward, into ourselves.  We give thanks for all the beautiful and nourishing blooms, fruits and vegetables of summer's bounty, and all the harvested grains that will keep us fortified through the still, quiet restfulness of winter.
This stage between summer and winter is the time of transformation. Things die to be reborn.  And this Autumn Equinox, this day of Mabon, when daylight and nightdark are equal, beckons us to honor this moment of balance as an opportunity to accept and harmonize our own polarities – our yin and yang, our female and male, our strengths and vulnerabilities, our thoughts and actions, our need for rest and activity – and to find their appropriate proportions and timeliness . . . their seasons within us.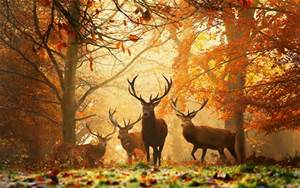 May your journey begin
Through darkening nights
To your paths within    
And to your inner light
Mabon, the Autumn Equinox, divides the day and night equally. It is a time of balance. It is a time of the Mysteries. We honor the changing seasons and the Aging Deities of the Spirit World, and pay our respects to the impending dark. We watch the earth die a little each day and consciously embrace this slow descent into the dark as another dimension of appreciating the light. Thus begins the traditional time of year for meditating on the themes of life, death, and rebirth.
At the same time, we give thanks to the waning sunlight, as we store our second and final harvest of this year's crops – the fruit that has stayed on the trees, and plants that have ripened under the summer sun. We thank the Earth, in her full abundance as Mother and Giver, for the great harvest. As Autumn begins, it is the time to stop and relax and enjoy the fruits of our personal harvests, as well.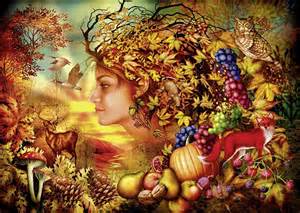 I open,
Gently open
To the Divine
Inside me
Mabon, the Autumn Equinox, is a time for harvesting and reflecting on the past year.  Considering the theme of the balance of light and dark, we take a few moments to contemplate the contrasts in our own lives. Is there any unresolved issue inside us we've been longing to reap the rewards of?  
Now is the time to take this energy and turn it to our own purposes. Regard it as part of the harvest of your life; food for thought; something to chew on, etc. Feast on the nutritious parts – the lessons . . . and eliminate the waste – the pain, hurt, negative feelings. Offer the "waste" to the Earth Mother as compost. It will enrich your ground, the ground of your being. Count your blessings!
May your hearts and spirits
be filled to overflowing!