Smudge is the term used for an herb, combination of herbs, or resin that is burned as incense for the purpose of purification. The herb may be burned loose, or in the form of a smudge stick. The "stick" is made by bundling the herb or herbs together with hemp cord or string to form easy-to-burn smudge sticks. A resin is usually burned on a coal.
The most common herb used by Native Americans is sage, but just as familiar are cedar, copal, lavender, sweet grass, or pinon. Common to the Celtic traditions are copal, frankincense, myrrh, and Dragon's Blood, among others.
When you smudge/purify yourself, you are clearing your mind and auric field. You attune yourself to a higher vibration that reminds you to speak and act in a sacred way, with an open and compassionate heart, and with your ears open to hearing the guidance from your spirit helpers and from Creator or the Goddess, depending on your tradition. Keep in mind that when you smudge yourself, you traditionally want to be very thorough and take at least ½-hr or more.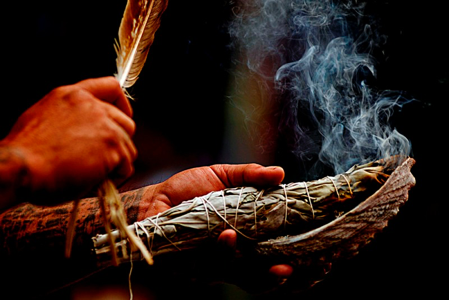 You can also smudge a house or room to clear it of previous owners' energy or any negativity that may have entered in the form of arguments, illness, or other entities. You can smudge an object to clear it and make it "clean" or "pure" for use by the new owner – like a book, jewelry, second-hand clothing or furniture, etc.
You can use smudge to pray. The smoke from the smudge will carry your prayers to Creator.
Here is more about Smudging . . .
Clear Your Energy and Lift Your Spirits With the Sacred Art of Smudging
by: Bess O'Connor
If you're feeling stuck, negative, sluggish, or even downright depressed, it may be due to some stagnant energy in your field. Your field can include your emotional, energetic, mental, spiritual or physical body, and your environment—whether it's your home, office, or other physical space. Stagnant or negative energy can have extremely detrimental effects on your mental and physical state and is even believed to manifest into things like a lack of happiness and success as well as pain and disease.
Smudging can help combat this negativity, clear the energy in your field, and help you start anew. Smudging is an ancient ceremony in which you burn sacred plants, such as sage, to allow the smoke to clear and bless a space.
To get some insight into the ancient art of smudging, healer and singer Grandmother Wapajea Walks on Water—with lineage from the Choctaw, Creek and Cherokee tribes—sheds some light on the topic.
Grandmother Wapajea says, "The goal of smudging is to make a place clear of lingering energy that is different from what you may be intending for that space. You want to prepare the space for ceremony, the way you would clean your house, cook, and decorate when your family comes for a holiday. We are welcoming Great Spirit, angels, and ancestors to come and share clean space with us as well."
What you use to clear a space depends on your location and what plants you have access to.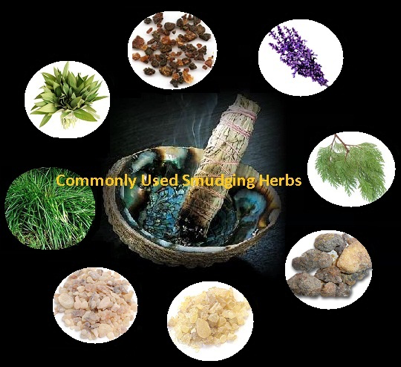 Grandmother Wapajea says that people on the East Coast use tobacco, cedar, sweet grass, juniper, pine needles, deerstongue, cypress, and sage. Out west they use tobacco, pinion, desert sage, and sweet grass.
"My family uses sage and cedar to purify, tobacco to send our prayers to the Chihowa, and sweet grass to attract angels and sweet-spirited ancestors. We also use sweet grass to bring ease to a space when we need to discuss something that is difficult to say," Grandmother Wapajea says.
What You Need
Sage or other sacred plants listed above. Sage represents the earth element and when burned, the smoke from it represents the air.
Abalone shell. This is meant to hold and burn the plants. The shell represents the water element.
Matches or a lighter. These represent the fire element.
Feather. This represents the air element.
Drum(s) or sacred drumming music, which represent the beat of the heart.
For indigenous people Great Spirit is in all of nature and creation, each thing representing a different aspect of divinity and sacredness. Therefore they honor the elements, and all natural things, from plants and minerals, to animals and people.
The Smudging Process
Often, smudging involves a four-direction ceremony. Here's a guide to help you get started.
Clear your space of clutter and mess and open up windows and curtains and allow for clean air to enter. Light your sage (or other herbs) on fire and then fan the smoke with your feather around your body and anyone else in your space.
Wapajea's Smudging Process
"We start in the East where the sun rises, and brings us the opportunity to begin again with each new day. Breath.
We go to the South and honor our creativity, our children, the child in us, our playfulness, joy, and hope. Earth.
We go to the West where the sun goes down, and the blackness of introspection begins when the day is done. Water.
We go to the North where our rest awaits us. Knowledge, stamina, compassion, silence. Fire.
We use a feather to fan the sacred smoke in each direction, one drums, one sings, one dances, one prays, until we have circled back to the east."
Tips for Smudging
The art of smudging is a sacred act and Grandmother Walks on Water says these are some things to keep in mind.
Hold sacredness and respect when connecting with the plant people who help you in this ceremony and when you pray.
Remember and honor your ancestors with good deeds.
Honor the divine by caring for what the Great Spirit has created.
See the divine Mother in everything. Women are the embodiment of Great Spirit's creation on Earth, thru the gift of birth, so women are holy. We are all from the same womb.
Everything is related to everything; nothing is random.
Caring for creation is everyone's responsibility.
This will is not religion; this is love.
Clearing Your Body
Smudging is not only for spaces; it's also for clearing your body, mind, and spirit of any negativity, stagnation, or energetic disturbances within or surrounding you. Make sure to invite the sacred smoke around your body from head to toe and front to back before smudging your space.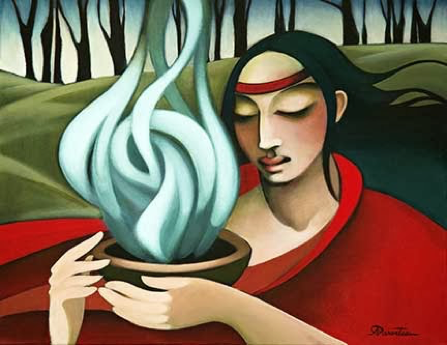 A Smudging Prayer
May your hands be cleansed, that they create beautiful things.
May your feet be cleansed, that they might take you where you most need to be.
May your heart be cleansed, that you might hear its messages clearly.
May your throat be cleansed, that you might speak rightly when words are needed.
May your eyes be cleansed, that you might see the signs and wonders of the world.
May this person and space be washed clean by the smoke of these fragrant plants.
And may that same smoke carry our prayers, spiraling, to the heavens.