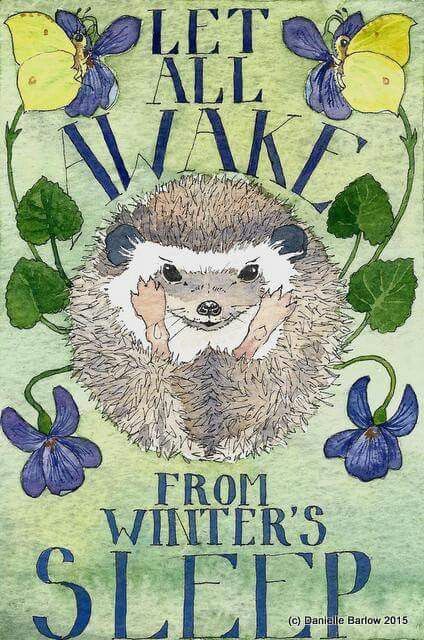 Happy Ostara! My best wishes for your continuing physical and mental health in this long-lasting pandemic period. Isn't it so great to experience the growing light, see new life budding around us, and occasionally be able to open some windows to feel that wonderful fresh air in our homes again?!
The days ARE finally getting longer and warmer now. And the sun is getting stronger, too. Trees are budding and the earliest flowers are blooming. The equal balance of the season manifests as the warmth and light from the sun's masculine energy combined with the fertility and growth from the earth's feminine energy.
Consider that balance doesn't necessarily mean staying in the center. It means honoring the opposites and navigating between them. In terms of living through this pandemic, it might show up as moving back and forth between confusion or fear and hope or courage. There may be some depressing days, but then you find the strength – the heart – to carry on. Equinox is a time to look at our own opposites. Honor them both. Don't let the dark days make you forget the light is coming. That's how to stay centered.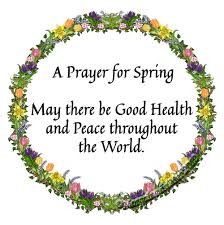 Could we use this Equinox energy to reflect on balancing our human behavior towards a healthier life – for ourselves and for our planet? Can we glean any wisdom from the lessons of this pandemic? Can we stop always being active and engaged? Can we make some time for rest and reflection?  Can we stop continually producing "stuff" and squandering natural resources? Can we, instead, start conserving and replenishing them? Can we make any changes in our personal lives, even small ones? Can we live in more harmony with our spirit, our collective humanity and our beautiful Gaia?
A TIME FOR RENEWAL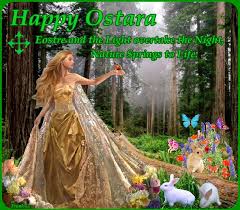 The Vernal Equinox is the traditional time for spring cleaning of both our house and our body/mind/soul. Spring Equinox energy is perfect for beautifying our homes and uplifting our spirits. So, when you can – and as often as you can – take a walk in nature. Breathe in the fresh air. Notice the buds shooting up. Bring a bloom or two inside. Let the child's innocence and wonder wake up inside you. Smile . . . in spite of everything. It's Spring again! 🍀🐇💐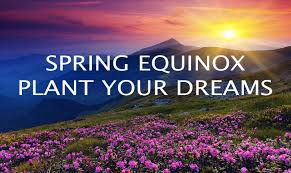 A Vernal Equinox is a powerful time for renewal, new beginnings, fresh energy, and a shift in our perspective. The Spring Equinox brings a shift in energy. Energy begins moving outwards as we prepare for the warmer summer months. We are encouraged to create, to blossom, and to put ourselves out there. It's an excellent idea to mark this shift of energy and celebrate it. Here's a simple ritual idea from Tanaz, the creator of Forever Conscious.
VERNAL EQUINOX RITUAL
You will need:
A fresh flower (for those in the Northern Hemisphere)

A dried leaf (for those in the Southern Hemisphere)

Bowl of Water

2 candles

Pen and paper
Directions: 
Have all your ingredients ready to go, and start with a centering meditation.

Light both your candles and place them side by side. Put your hand over your heart, and repeat the following affirmation aloud –
"I am balanced. I am whole. I am grounded. I am centered. I am earth, I am water. I am fire, I am air. I am the Sun; I am the Moon. I am light. I am dark. I am connected to all that is within and all that is around. I am rooted in myself. I am peace. I am love. I am balance. I am harmony."
Now, take your paper and pen. Place your hand on your heart and ask yourself- Dear body, dear mother earth, how can I better honor, appreciate, and acknowledge my physical journey? Write down whatever answers come to your mind.
Take another piece of paper. Place your hand on your heart and ask yourself- Dear soul, dear spirit, how can I acknowledge the light that I am and my connection to source, the divine, and to my higher self? Again, write down whatever first comes to your mind. 

Fold both the papers. Hold your first piece of paper in your hand. Close your fist and state out loud your offering to yourself and to Mother Earth of what you are going to do to honor your physical journey and body. Place the paper into the fire of the candle. Once the paper begins burning, drop it in the bowl of water.

Now, take your next piece of paper in your hand. Close your fist and state out loud your offering to Spirit and to your higher self about what you are going to do to honor your Spirit journey. Place the paper into the fire of the candle. Once burning, drop it into the bowl of water.  

Take your leaf/ flower and add it to the bowl of water. Clasp the bowl of water with your two hands and repeat "Thank You" four times.

Leave the bowl out for 12 hours and then discard by returning to nature if you can.